Doctors & Staff
Meet the experienced and friendly doctors and staff who make Alabama Vision Source a proud provider of vision care products and services in Calhoun and surrounding counties.
---
Dr. David G. Chandler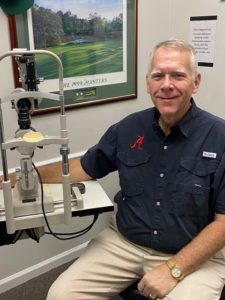 Dr. Chandler has a faith-based, caring attitude toward his patients. He keeps on the cutting edge of eye care (through continuing education and up-to-date technology), and wants his patients to know that he understands the old adage, "People don't care how much you know til they know how much you care". It's not just a saying, but a way, a philosophy so to speak, of providing eye care.
"We operate our practice with Biblical principles as our guiding philosophy" advises Dr. Chandler. "If you know those principles, then you know what to expect from us. We invite our patients to hold us accountable to the Word of God".
Dr. Chandler loves Alabama football (but still loves his Auburn, Tennessee, Georgia and some of his LSU patients!). He is married for 33 years to Jacksonville native Bridget Reaves (an AU fan and much smarter than him), and has 3 daughters.   Bridget manages his practice, and him, while also acting as mom and best friend to the rest of the clan.  His oldest daughter, Chelsea (the second Dr. Chandler) joined him in practice in the summer of 2017 after graduating from UAB School of Optometry.   Courtney (allegedly-reportedly his favorite) is working with the Tuscaloosa Police Department as a crime intelligence analyst, while her husband, Jake Wilson, works with Avanti Polar Lipids as a chemical manufacturing specialist.  His youngest daughter, Cristen, recently graduated from Auburn University with a degree in International Business with a minor in Spanish and will be heading to Law School in the Fall of 2021.
Dr. Chandler absolutely loves to take care of patients, and loves practicing eye care (he'll get it right after practicing long enough). Dr. Chandler believes in loving the unlovable – but only through Jesus and the Holy Spirit can he do that. He will do anything he can to reveal the real Jesus of Scripture to anyone that will listen (no he's not weird, just borderline). Dr. Chandler invites you to hold him accountable to God's Word, both in business and personally. In this, he is serious.
---
Dr. Chelsea Chandler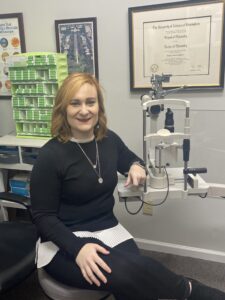 Dr. Chelsea (as the staff calls her to distinguish from the older Dr. Chandler) is a native of Jacksonville and oldest daughter of Dr. David Chandler and Bridget Chandler. Dr. Chelsea obtained her undergraduate degree from the University of Alabama in 2013, graduating Magna Cum Laude with both International Honors and University Honors distinctions. From there, she then attended the University of Alabama at Birmingham School of Optometry. She graduated UABSO in May of 2017, also earning distinction with the Beta Sigma Kappa International Honor Society. Once she passed her national and state boards, she started practicing with her dad in August 2017, and has loved it ever since.
When she is not with patients, Dr. Chelsea enjoys "hanging out" with her family and friends, including going to football games on fall weekends (Roll Tide!), going to the gym, playing golf, and just having fun. Dr. Chelsea is now seeing patients, both new and former, in Jacksonville, so set up an appointment with her today!
---
 Jann Troup

Jann has worked in practice management and insurance in our practice since 1998. Jann's expertise lies in her work with companies to maximize insurance rembursement for our patients. She is married to David and has one brilliant grandson and four beautiful grandaughters. "Mimi"  is a member of Post Oak Springs Baptist Church and loves the weekend river life and plans to retire in Wedowee – but only when Dr. Chandler agrees!
---
Ashley Greene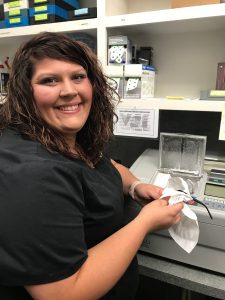 Ashley has been with our Optical team since 2014. She is our frame and lens specialist, and you will see Ashley after your visit with Dr. Chandler if you are in need of new glasses or sunglasses. Ashley is married to her husband of 10 years, Micheal, and they have two beautiful energetic little girls. She enjoys spending time with her family and friends. Ashley enjoys trail riding in their Razor and attending dirt track racing with her family.
---
Beth Thomason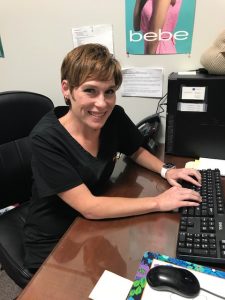 Beth has been with Dr. Chandler for the past 7 years and works with Dr. Chandler as an optometric technician. She loves being able to help our patients enrich their lives with clearer vision so they are able to participate in whatever activities they choose. She has been married for 18 years to Chris and has two "fur-babies", Maggie and Macho. When not at work, she enjoys quilting, sewing projects, and spending time with family. She and Chris enjoy travel and have started a goal and adventure of visiting all 50 states!
---
Morgan Hooper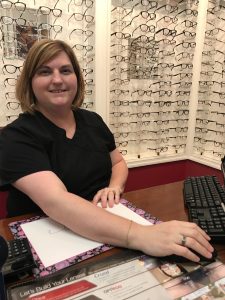 Morgan is our scribe and ophthalmic technician. She has been working in the field for over 9 years, and has worked with our office since March 2017. In her spare time, she is hard at work studying towards a degree in Business Management. On her off days, you can find her participating in her local church, Sharon Hill Congregational Holiness Church, going to gospel concerts, and spending time with her boyfriend and her kitten, named Simba.
---
Jeremy Burns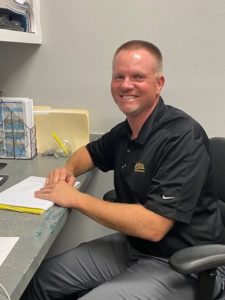 Jeremy is one of our newest staff members (joining us in August 2019), but has quickly become one of our most valuable employees. He is an optometric specialist who is proficient in all things optometry, including ophthalmic technology, glasses and contact lens services, and even insurance billing.  In his off time, he enjoys playing golf (sometimes with "the DGC", Dr. Chandler), watching Auburn sports, and is a self-proclaimed movie buff.
---
Tasha Edgeworth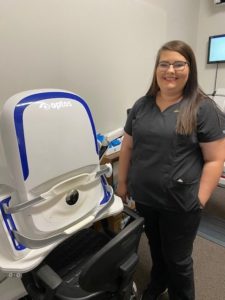 Tasha joined our practice as an ophthalmic technician in July of 2018 and has been a huge asset to the daily hustle and bustle that comes with taking care of patients. In her off-time she enjoys watching LSU football (BOO!) with her family and spending quality time with her 2 children and fiance.
---
 Kelly Browning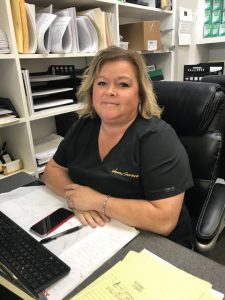 Kelly is our back office receptionist, and she is in charge of checking patients out and working with insurance. When not busy at the office, Kelly enjoys camping and spending with her husband, Jamie, and her two daughters, Jessica and Emily. She also enjoys time with her 4 wonderful grandchildren, who lovingly refer to her as "Lollie".